About Dr. P. R. Wasson
---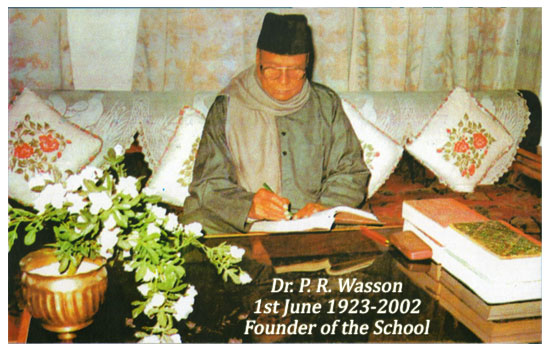 Dr. P. R. Wasson Initially spent a very struggle some and tedious life from the very offset of his career. It was a great ambition in his life to serve the people of his locality by spreading knowledge, so he devoted and dedicated his whole life to the cause of education. He never cared for his worldly comforts, whatever he earned, he contributed for the betterment of educational institutions.
If we cast a glance over his career, we find in him many qualities and virtues of a great scholar. Dr. P. R. Wasson, L. T. (Kanpur), M.Ed. (Gold Medallist) and Ph.D. in education, has been diligently involved in the field of education for the past forty years. The cherished dream of his life came into reality, when he founded Mohan Vidya Mandir Management Society in 1960 and got it registered. Under this trust Mohan Vidya Mandir co-educational School up to class VIII was started. Due to his proper guidance and management, the school prospered and flourished. The strength grew against expectation, so it was bidurcated into Boys and Girls school. Both the schools, under his stewardship upgraded into intermediate colleges and are reputed for good result and discipline in the whole province.
As time passed on its airy chariot the exposure of English in each and every field of life became very common. Immediately the demand of time fever penetrating the thoughts of Dr. P.R. Wasson and delaying no more, the late manager of Mohan Vidya Mandir Management society Kailash Chand Wasson laid the foundation of Dr. P.R. Wasson Public School. It is keenly observed that "whom god loves they die soon". This came true and Dr. P. R. Wasson and Shri Kailash Chand Wasson made their journey to abode of god. To complete this half undone work and to fulfil their dreams Dr. Garima Chopra and Mr. Karam Chopra have stapped forward with their constant and strenvous efforts and are still engulfed with.